The world recognises this maverick chef and his cuisine without borders
Mirazur, the three Michelin starred restaurant of Chef Patron Mauro Colagreco, was declared No 1 at The World's 50 Best Restaurants Awards 2019 in a glittering ceremony in Singapore on Tuesday 25th June. The votes were submitted by over 1,000 international food writers, critics, chefs, restaurateurs and industry experts from 26 separate regions from around the world.
As the award now makes its way to Mirazur in Menton, Côte d'Azur, it marks the first time that France has received the No. 1 position since The World's 50 Best began in 2002. It also signifies a notable acceptance of 'cuisine without borders' from an eclectic and maverick chef.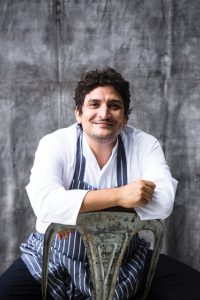 «This recognition from my esteemed colleagues and peers is a great honour.  It recognises the trajectory of my life from Argentina to the Riviera that welcomed me so warmly 19 years ago. I am overjoyed to bring this award back to France», explains Mauro, a chef whose cuisine is not a result of his homeland but of his journey. "I am from so many influences but above everything, I am a cook and I love to cook.  My food is just from my heart, and I love to share it with my guests. From all of us at Mirazur, thank you – we are all celebrating tonight».
Mauro Colagreco's professional journey began in his native Argentina at the Gato Dumas Institute in Buenos Aires. After working in some of the city's most prestigious restaurants, he headed to France to the Lycée Hôtelier de La Rochelle in 2000. He then received an apprentice position at the restaurant Cote d'Or in 2001 under chef Bernard Loiseau, where he remained until the chef's death in 2003. He then moved to Paris to work for Guy Martin, Alain Passard and Alain Ducasse.  Since then his curiosity has taken him on a worldwide adventure discovering different food cultures and connections.
A maverick in many senses, Mauro Colagreco was born and grew up in Argentina, however, another strong influence is his Italian heritage from his grandparents. His professional culinary training and career development is distinctly French and his travels have impacted his cooking at every touch.
In 2006 he discovered an old 1930s villa serendipitously located 30 metres from the French Italian border.  Surrounded by orchards and gardens, with access to markets in France and Italy and overlooking the Mediterranean sea, Mirazur – home of Mauro Colagreco's borderless cuisine – was born.
France, globally renowned for its proud gastronomic history, embraced this young Argentinian. Just six months after opening, he was recognised by Gault & Millau with the 'Revelation of the Year' award for young new talent, followed by one Michelin star within his first year of opening. France had celebrated the energy of this promising new talent as their own.
The recognition continued as his cuisine developed. Receiving the highest accolade from the Michelin Guide this year, Mauro is the first non-French three Michelin starred chef in the 110-year history of the guide. The country also bestowed one of its highest civilian honours, the "Chevalier De L'Ordre Nationale du Mérite". Mauro Colagreco is acutely aware of the responsibility imposed on him by his extraordinary career.  «I am proud to be one of the representatives of a new French kitchen that lives to the rhythm of all the influences of the world' explains Mauro. «I am not French, and yet I have made French cuisine my passion; it is so beautiful and so refined that it inspires us naturally. I believe in mixing, combining and celebrating all influences. I am pleased to be able to open my kitchen to different inspirations. I give thanks to this French cuisine so rich in know-how, and to all those other elements that have influenced my cooking. Borders are places that promise new encounters and discoveries. When we go beyond them, the limits no longer exist and we have the opportunity to experience freedom. The culinary identity of France today is exciting. It is happening».
Mauro's cuisine reflects the unique location of his restaurant overlooking Menton on the stunning Côte D'Azur. Surrounded by the mountain region of the Alpes Maritimes behind, the abundance from the sea in front, and vegetables, herbs and fruit from the restaurant's sun-drenched gardens, as well as the daily markets in Menton (France) and Ventimiglia (Italy), his dishes reflect his passion for the quality of his produce and the integrity of his suppliers. Mauro's menus are a free expression of season, respectful of nature and a gentle play on both texture and flavour.
In November 2018, 12 years after opening Mauro wrote his first book Mirazur – published by Catapulta.
For further information on Mauro Colagreco and restaurant Mirazur please contact Lotus on (+44) 20 7751 5812  office@lotusinternational.net